Validus consultant profiles
Professor Bill Weinstein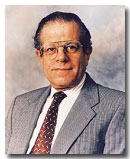 Author, speaker, workshop leader and Chairman of Validus, Bill specialises in the impact of geo-political, military, governmental, regulatory, economic, technological, social, industrial structure and competitive changes on businesses. He has developed a distinctly fast and stream-lined methodology for scenario thinking to help executives to focus sharply on key strategic choices. This has been applied to a wide range of businesses and public sector organisations.
Bill has written and published various papers on Risk Management and is one of the countries leading authorities.
Gordon Davidson

Gordon is the Managing Director of Validus Consulting Ltd. with over 20 years experience as a business analyst and transformation implementation specialist within Local Government, the NHS, Utilities and Financial Services. Gordon is the architect of Enterprise Process Management and Value for Money modeling techniques that are now widely adopted within the public and private sectors.
Terry Winrow

Terry is an experienced transformation programme manager whose specialisms include developing business strategies and translating strategic goals into clear action plans for delivery. His particular strength lies in personality profiling and re-energising people, transforming both team and individual behaviour to achieve collective results delivery.
Bob Watson

A vastly experienced and recognised expert within the drinks industry on; business strategy, product development and implementation, world class operations management and sustainability, Bob is able to work with people at all levels of an organisation and is notably successful at getting the best out of people.
He is a skillful debater and representative of the UK drinks industry interests within the European Union.
Trevor Mathews

A vastly experienced practitioner with a results driven focus, proven organisational and interpersonal skills combined with a versatile and practical management style. He has a strong track record of achievement in change management, continuous improvement, project management, coaching, team building, operations and logistics in a variety of business sectors.
Trevor is notably successful in 'winning hearts and minds' through the use of strong visual management techniques and in applying methodologies from manufacturing (Lean, Six Sigma, Kaisen etc.) to public sector organisations.
Linda Lyons

Linda is at the central 'hub' of Validus and is responsible for our front-line client contact and customer relationship management. Linda is notable for quickly understanding our clients' issues and needs and in arranging the appropriate responses from Validus.